FirstLight Home Care of Minot and Rugby is Proudly Serving Veterans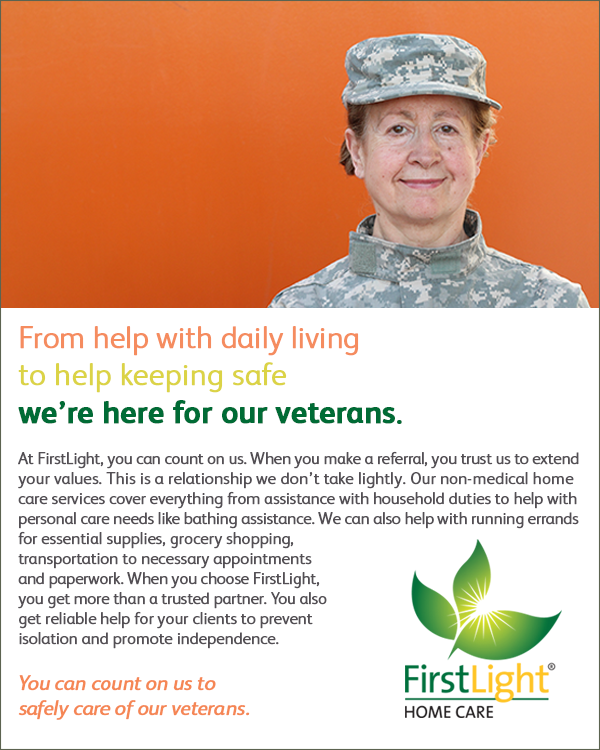 Can veterans afford to pay for home care?
Home care may be more affordable than you think. Plus, there are benefits that could help veterans pay for this much-needed assistance.
If a veteran receives VA medical benefits or Pension, or served overseas, they may qualify for benefits if:
They need another person to help them perform daily activities, like bathing, eating and dressing, or

They must stay in bed—or spend a large portion of the day in bed—because of illness, or

They are a patient in a nursing home due to the loss of mental or physical abilities related to a disability, or

Their eyesight is limited
If you are caring for a veteran of the United States Armed Forces, make sure that your loved one is receiving the care and benefits they deserve, and that you – as the family caregiver – are getting the respite care you need. Your regional VA benefit office can be a great resource if you have questions about the benefits that are available to your loved one or contact FirstLight Home Care in Minot and Rugby and we can assist you.
Address:
1425 24th Ave SW, Minot, ND 58701
126 2nd Ave SW Suite 111, Rugby, ND 58368
Phone: (701) 839-0222
Website: https://www.firstlighthomecare.com/home-healthcare-central-north-dakota/
Facebook: https://www.facebook.com/FirstLight-Home-Care-of-Central-North-Dakota-129061377658761/